Welcome to Monte's!
Subs, Hoagies, Grinders, Heroes... whatever you call them, we are the place FOR them in Hendersonville, NC!
PLACE YOUR ORDER ONLINE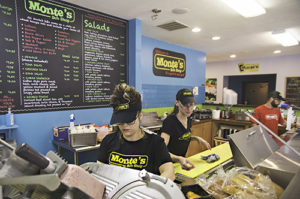 Thank you for visiting the online home of Monte's Sub Shop and The Taproom at Monte's in Hendersonville, NC. We are an independently owned and operated business that strives to please every customer by offering the best subs around (our salads ain't bad either!), the best craft beer and snacks, as well as the best customer service you will find anywhere. Our regular and catering menus are both available here. Please let us know if you have any questions, comments or suggestions. We check our email regularly! Thanks!
Call ahead to-go orders:
---
Or fax your order to:
828.693.3730
Download fax order form
Please call us after sending a fax so we know to keep an eye out for it!
We are now offering DELIVERY through Doordash
"Best sub shop in town! Friendly service. Our regular lunch stop."
– Wendy S.
"Best staff and food around! They will accommodate anyone's needs."
– Sloan N.
"Favorite sandwich shop in Hendersonville. Great food, friendly staff and wonderful curated beer selection."
– Bo A.
"I discovered Monte's through TripAdvisor and the reviewers weren't wrong, this place rocks! I've had about a dozen different sandwiches and the only complaint I have is that I wish they used higher quality ham. Otherwise, this place is a huge win! Try the bone broth if they have it available."
"Very good sandwich with the tomatoes and pickles chopped and the meat wrapped around. Unique way of sandwich making. Staff was friendly and helpful. Place was clean and family friendly"
– Walter G.
"I was in Hendersonville for work one day and needed a quick lunch. Monte's was recommended by some locals, and the menu had a nice selection of sandwiches, so I went for it. The cuban sandwich was done properly, and the prices were on point. I'd definitely recommend Monte's to folks in Hendersonville."
– Bowmanator